Gallery
Constant Variable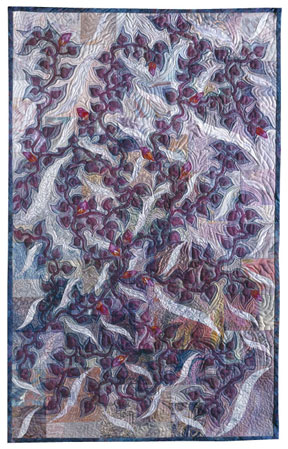 © 2002 Judy B. Dales
46 x 29 inches
Sold

Cotton fabric and batt, chiffon, tulle, cotton, poly and rayon thread
Machine pieced, appliquéd and quilted

Created in response to a challenge involving oxymorons, this quilt led me in new directions. The background is pieced, using one block in various sizes and orientations. The vine design, which forms the most dominant part of the design, seems to represent the idea of "constant variable" because it is comprised of a single design element repeated in many different variations. This quilt toured with the Oxymoron Exhibit and was also included in the accompanying book.
$ 2,650.00
Click the 'Buy Now' button below to purchase this item.