Welcome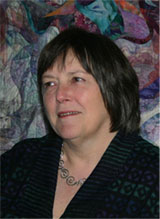 Love of color, rhythm and pattern intersected with stitching skills early in Judy's life when she began working with fabric in her twenties. Those early years were spent creating complex geometric quilt designs, but obsession with geometry was eventually replaced by a fascination with all things curved. Whether working with abstract or representational images, Judy's affinity for curvilinear design is evident. The curved shapes dance, float and undulate. The lines flow. The designs are imbued with an elegant grace that reflects the artist's affinity for curves.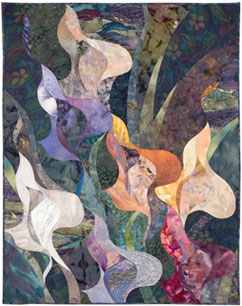 Judy's designs are drawn, redrawn and refined until she is pleased with every shape and curve, so it is imperative that the drawings be replicated exactly when translated to fabric. Judy developed a method of pattern making and sewing which accomplishes this. Her piecing technique gives the work a clean, classic look that enhances the curves. Occasionally the design is embellished with extra layers of transparent fabric to soften the edges and create a watercolor effect, but the strong lines and shapes created by the piecing still predominate.
Judy is a superb colorist who works mostly with commercial fabrics. Print fabric is a unique raw material, appealing and beautiful in its own right. Judy combines many diverse fabrics, sublimating the individuality of these fabrics in order to create a cohesive whole, using colors, values and textures to create a unique, painterly style.
Judy has been making and selling art quilts for almost forty years. Her work is in the collections of The Newark Museum, The Morris Museum of Arts and Sciences, The White House Craft Collection, Washington, DC, The Shelburne Museum, The National Quilt Museum, and a numerous corporate and private collections.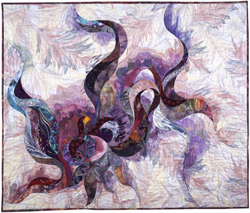 Please visit the Quilt Gallery and the Retrospective Gallery to see more of Judy's work.