News & Events
---
2017
"Creative Confluence"
at the new

Greensboro Theater
Highland Center for the Arts
from May until July 2017 was a rousing success. The artist reception was standing room only, but theatre goers and those stopping by for a bite to eat at The Hardwick Street Café enjoyed the artworks throughout the early summer months. Caspian Arts members were honored to have the very first exhibit in the beautiful art center and are grateful to Vanessa Compton and Anna Weisenfeld, the curators for the show, for making our work look so great!!

The exhibit showcased the diverse materials and techniques employed by the member artists, including paintings, weavings, art quilts, jewelry, pottery, sculpture, paper collage, photography and woodworking.
---
Shelburne Museum
2015

The Shelburne is a unique museum, founded by Electra Havemeyer Webb who was one of the first American collectors to realize the significance and beauty of antiques and folk art. I was thrilled to have fifteen of my pieces exhibited in a solo exhibit for the entire summer season om 2015.



The Hat and Fragrance building is at the far end of the museum, down by the covered bridge. It's a bit of a hike so wear your walking shoes or catch a ride on the shuttle that makes regular tours of the grounds. Looks inviting, doesn't it?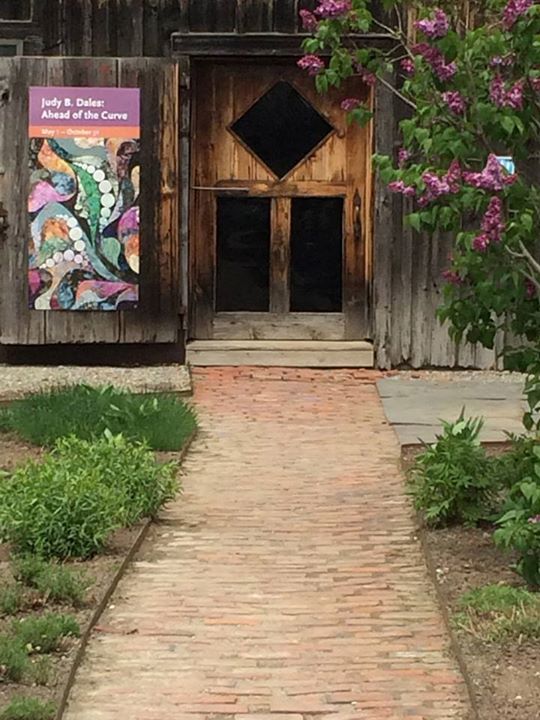 Here are a few shots of the exhibit itself. The quilts are beautifully hung and lighted and each has a statement which explain a bit of my process and inspiration.